American Psycho (2000) is a film adaptation of the book by Bret Easton Ellis. The film is labeled as a "Black Comedy" and a "Psychological Thriller" because the main character, Patrick Bateman, is a Wall Street professional during the day but a sadistic killer in the night but Christian Bale plays this role in a hilariously over-the-top fashion. Most people remember this movie for its confusing ending, gruesome deaths, or funny faces of Christian Bale, but many overlook the message the movie tries to tell about the nation's elite.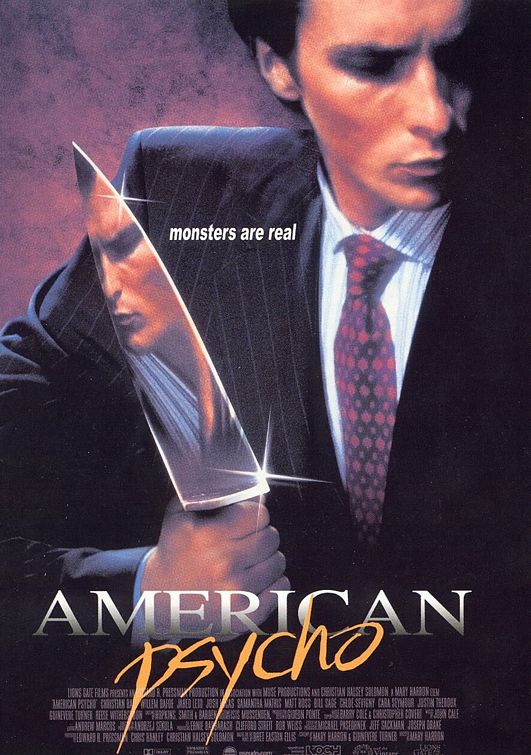 Bateman is characterized as compulsive; he constantly maintains a high level of quality to his appearance and nearly physically injures himself out of anger when he realizes some of his co-workers have better business cards than himself. This exaggeration of his character lets us see how meaningless everything a highly-paid businessman worries about is. Although the audience might laugh at Bateman's reaction to the cards, this scene is presented as if it is not far from the truth. The audience now knows that Bateman values the appearance of his card over a human life.
Bateman murders several people throughout the course of the film. Killing is a bad habit that he seems to have ironically picked up to keep from going insane from being so alone in his life. This lonelyness is the second critique of the nation's elite: They don't listen to others and only care about themselves. The audience learns this after Bateman exploits this fact in most of his conversations. He often interjects with comments on how he can't stop killing people or how he doesn't care about whatever his co-workers or spouse are thinking or talking about but the person on the other end of the conversation never notices; They are completely self-obsessed to the point where they only hear what they want to hear.
American Psycho is a great movie to watch with friends for laughs and scares but, when looked at more closely, is really a message about the sad, corrupt lives being led by Wall Street professionals.
American Psycho (Business Card Scene)